Sedona City Council decides against ESG investment strategy – Sedona Red Rock News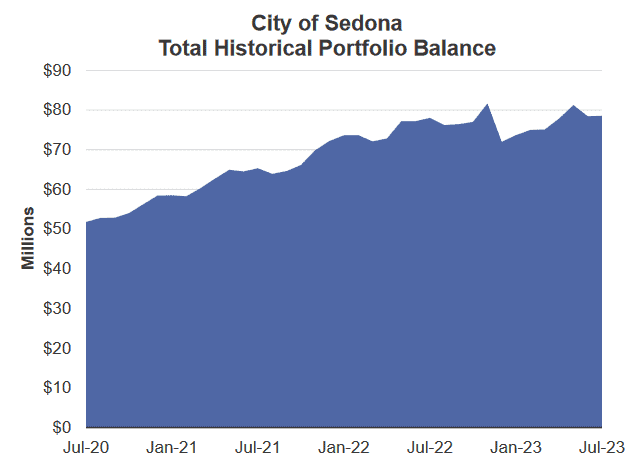 Growth in the city of Sedona's portfolio balance over the last three years. The city recently declined to adjust its investment strategy to include ESG values. Photo courtesy city of Sedona.
The Sedona City Council reached a consensus not to expand its investment management services agreement with PFM Asset Management to include decision-making based on "environmental, social and governance" values during its meeting on Wednesday, Oct. 11.
Annette Gaston and Sarah Walsh of PFM were on hand to discuss the city's current investment strategy as well as options for incorporating ESG planning into that strategy.
"The portfolio as it is now has a very liquid makeup, and that's something we would look to keep intact," Gaston said.
The city's investment balance of $78,575,586 as of July 31 is divided three ways, with 24% in money market funds, 26% in government securities and 49% in the state's Local Government Investment Pool. The LGIP is an investment fund managed by the Arizona state treasurer to provide local governments with greater yield through pooling their assets.
The portfolio's annual growth rate over the last three years was 13.9%.
Environmental, Social and Governance
ESG investing is an approach to making investment decisions that takes into account not only a company's financial performance, but also its performance on a range of environmental, social and governance measurement scales. Environmental performance is measured using factors such as carbon footprint, pollution levels and contributions to deforestation, while the social component is scored on factors including human rights and diversity and the governance contribution involves elements such as bribery, corruption and executive compensation.
A company's ESG performance is commonly scored on a 1 to 100 scale that "measures economic value at risk based on ESG factors." A lower score means less risk.
"ESG is really just another way of performing risk management," Walsh said.
Involvement in either a given industry or a specific business activity can also be used as an exclusionary criterion to eliminate companies as potential investments. PFM's examples of such activities included involvement in the production of oil, coal, alcohol and drugs, weapons, contraceptives and pesticides.
"Are the places to proactively invest also considered?" Councilwoman Kathy Kinsella asked. "That's a missing component, perhaps."
"It's more of a taking away what they're doing bad rather than rewarding what they're doing right," Walsh said.
PFM has 210 companies on its approved issuer list.
"If you were to implement the example approach that I just walked through," Walsh told the council, an example that had focused on firms with medium or low ESG risk and excluded firms dealing in fossil fuels, tobacco, pharmaceuticals and forestry products, the number of companies with which the city could invest through PFM would drop to 173.
"Are you going to make investments so that the yield, regardless of categories we might choose, is the same?" Councilwoman Jessica Williamson asked. "There would be no yield consequence to ESG decisions?"
"That's correct," Walsh said. "That's what we've observed in portfolios that we manage for other entities."
"There is, in the rumor mill, in the general anti-ESG messaging, that you should expect lower yields," Vice Mayor Holli Ploog said.
"That's not what we're observing," Walsh said.
"My experience in ESG is that [those funds] sometimes tend to underperform," Councilwoman Melissa Dunn said.
Banking Services
One of the examples included in the PFM presentation involved Wells Fargo, the city's current provider of banking services, which led to additional questions from council.
"Did you compare Wells Fargo with banks of similar size?" Ploog asked with regard to Wells Fargo's ESG score.
"I believe Wells Fargo is one of the worst-rated banks out there … but I would have to look at the banks themselves," Walsh said, before adding that overall Wells Fargo's ranking was "very poor."
"What's the best banks?" Mayor Scott Jablow asked.
"I would have to look," Walsh said.
"I would also want council to consider our experience as an institution with Wells Fargo, which has been phenomenal," City Manager Karen Osburn said.
City Finance Director Cherie White said that "it is a good thing to do a banking services RFP" from time to time to keep the bank on their toes, but agreed with Osburn about the benefits of the city's current arrangement.
"It is a pretty significant undertaking to change all the banking services," White said.
"I think it's something we should look at," Jablow said, but suggested it be considered at a later date.
"I don't think we should be deciding on which bank our staff has had very, very good relations with," Williamson said.
Vetting
"My mind says I have questions, but I can't formulate them," Williamson said. "What does staff think?"
"I'm OK either way," White said. "I was one of the ones that was a little hesitant until talking with PFM staff and finding out this isn't really going to impact our yields."
"I had some of the same concerns," Osburn said. "I do still have a few others … On the environmental side of things, we've done a very extensive job of going out to the community and asking them … what we haven't done is any kind of vetting in terms of social values."
"You feel very comfortable going down an E path, not an ESG path," Williamson said to Osburn. "You feel confident that [environmental] values for the community have been fairly established and the other two have not been and I would agree with you."
"It seems like those are less subjective," Osburn said. "We can speak very clearly to the engagement of the community."
"I think that if we went down that path on such a topic, it would come back, and rightfully so, to bite us," Jablow said. "That has me concerned."
"It's not clear to me that now is the right time," Councilman Pete Furman said. "It's not our money, it's other people's money, and we have a duty, in my opinion, about how we treat that money."
"That we don't have input about the S and the G very much takes those off the table," Fultz said. "The environment piece, I'm actually uncomfortable with that … there's discrepancies about how environment is actually considered … That Apple has this shining E-score makes absolutely no sense to me."
Furman also suggested that attempting to determine community values "opens the door to discourse that will not be beneficial to harmony in the community."
"I have a fiduciary responsibility to this community as a whole," Dunn said. "We need to maximize the yield for the community because that's what we said we were going to do."
"I'm completely confused about the definitions," Ploog said. "It doesn't seem like we should be making any changes right now … I'm resistant about corporate [investment] to begin with, without even applying an ESG factor."
Ploog also pointed out that the city had a negative return on its investments in 2022. The city's investment loss in fiscal year 2022 was $2,475,192.
"That would be related to the LGIP," White said, describing it as an "unrealized loss" that the city will recoup "when the market turns around."
"I'm more comfortable in the E area at this point," Kinsella said.
"I had no idea what you were talking about," Williamson said. "I don't see how we could change our investment policy without having any idea what we're doing … I don't want to second-guess my investment people … I support just the E."
"I'm not comfortable changing to the ESG for all the reasons my counterparts have stated," Jablow said. "We should not move forward with that."