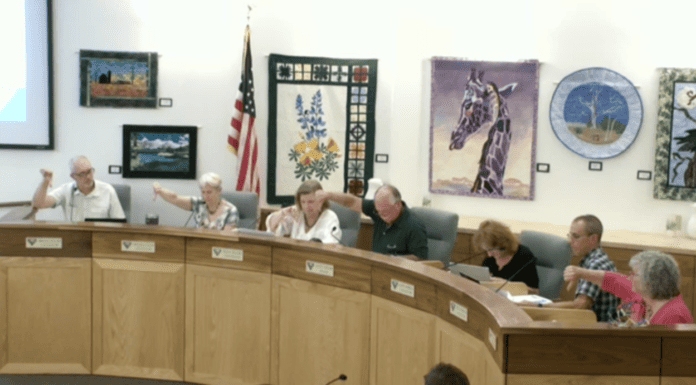 After two days of discussion on June 14 and 15, the Sedona City Council decided to increase the proposed budget for Fiscal Year 2024 from an estimated $84.5 million to an estimated $85,653,790.
New Gated Community
The city's new director of Public Works, Kurt Harris, revealed that the city is considering closing the public Back o' Beyond Road to non-resident traffic.
"We're tracking all of the pedestrians and bicyclists that are going in there to use for that [federal] grant application, and that's to try to look at a whole concept of how to remove bicyclists and pedestrians from that whole road," Harris said. He suggested the possibility of building a segregated path or access for non-resident foot and cycle traffic. "There's also another project we're trying to do, is put an automatic gate there … make it safe and easier for the residents to get in and out."
"That'd be great," Mayor Scott Jablow said.
Councilman Brian Fultz referred to an alternate proposal to eliminate trailhead access to Cathedral Rock from Back o' Beyond completely as "brilliant."
"It's our appetite to push hard on the [U.S.] Forest Service to play ball," Fultz said.
New deputy city manager Andy Dickey noted that while the city has tried to get the Forest Service to close that trailhead multiple times, "it's a nonstarter with them."
Housing & STRs
Vice Mayor Holli Ploog commented that contractors and homebuilders have complained to her that the city's building codes add prohibitive costs to new home construction projects.
"Those people say that, but they never quantify or identify what specific things they're talking about," City Manager Karen Osburn said. "If those people would like to give us the list and the associated cost … produce it, and we'll respond to it … No one's been able to produce the list."
"A lot of these things — they might add to the cost of housing, but they're adding a very minimal percentage to the cost of a house that's already a million dollars," housing manager Shannon Boone said.
When asked by Councilwoman Jessica Williamson how much funding it would be "prudent" to allocate to housing in the coming fiscal year, Boone proposed $12 million for four projects.
"I would be perfectly delighted to be in the position of your needing more money in order to get some housing built," Williamson told Boone.
"This just feels like all of a sudden we're going to be the biggest landlord in town. Or we're going to be the money behind the landlord," Councilman Brian Fultz said.
"I'm not sure that we as a city yet have done everything that we can to … encourage low square-footage, market-rate multi-family housing in town," Councilman Pete Furman said.
"The only thing holding us up is the financing," Jablow said. "Enough has been done for market rate."
"Even those are very difficult to build," Boone said. "I'm talking to developers who want to build something like that, and they still need subsidies."
Osburn said that the Sunset Lofts project "is our fastest opportunity to actually get units built." The development is currently in limbo while awaiting [U.S. Department of Housing and Urban Development] financing; the city will likely need to contribute another $2 million to the project, bringing the per-unit cost to over $317,000.
Boone estimated the per-unit subsidy for city housing projects currently underway as $80,000 per unit.
The city's short-term rental specialist Teresah Arthur informed council that compliance with the city's STR permitting program is at 95%, with 1,092 permitted properties out of 1,105 reported listing. "We seem to have stabilized," Arthur said, adding that there have been fewer than 10 neighbor complaints so far about STR owners failing to notify adjacent residents about their properties' status.
"I'm surrounded by them, and I've only seen one notification," Furman said.
On the Road Again
The council was in favor of spending $64,500 to install TVs in the trailhead shuttles, which Transit Administrator Robert Weber said "would be a good way to convey whatever messaging we wanted to convey" to "a captive audience of 300,000 people a year."
Sedona Cultural Park
City staff are planning to put out an RFP for a consultant to advise on the master planning of the Sedona Cultural Park in September, with the master planning to begin in January 2024.
When Jablow mentioned the ongoing public interest in restoring the event venue as well as possibly constructing housing on the site, Osburn said, "Those two uses are completely incompatible … The community's going to tell us, but in terms of having both of those things exist, I don't think that's an option."
Osburn did not explain why she declared those uses to be incompatible.
In the meantime, the city has been in discussion about using the park as a car camping site for local workers via the Verde Valley Homeless Coalition, which would cost around $400,000 in management expenses and supplying portable toilets and showers.
"One of the things I really like about this is it would enable us to count this population [of car workers]," Boone said.
Going to the Dogs
Council spent 44 minutes discussing a $55,320 line item to install shade structures and grass at the Sedona Dog Park at Posse Grounds Park before eventually deciding to leave the item in the budget and possibly reconsider it at a later date.
When the city council approved the dog park in January 2004, its construction and operation was supposed to be funded by Sedona Dog Park Inc., a private nonprofit organization.
Ploog and Councilwoman Kinsella argued that as the council had already agreed to test a partial grass surface at the dog park provided water use could be reduced, it was necessary to proceed with the installation.
"I don't want something that looks like we're reneging on a promise," Kinsella said.
"The decrease in the water usage is green-washing. It's whacking the mole," Williamson commented.
"The Yappy Hour folks are very set on the grass," Parks & Recreation Manager Josh Frewin said, adding that conversely, parents dropping their kids off at soccer games were not happy to see dogs urinating on the field where their kids were about to play.
"Parking is a huge issue," Frewin admitted in response to a question by Councilwoman Melissa Dunn about the available parking for expanded events at Posse Grounds. The city has in recent years eliminated approximately 300 nearby parking spaces by closing Soldier Pass Road to parking.
Departures
The exodus of city staff appears to have intensified over the last six months. Human Resources Manager Brenda Tammarine informed the council that from July 2022 through June 15, 2023, 51 out of 165 city employees left, a turnover rate of 31%. Thirty-four of these positions were full-time and 17 were part-time. The turnover rate for the previous fiscal year was 22%.
However, Tammarine noted, while the city is having trouble finding "highly qualified candidates" for management positions, it recently received 15 applications for a janitor's position within a 14-hour period.
City finance director Cherie White said that she anticipates another 15 retirements over the next five years. Code Enforcement Officer Brian Armstrong will be retiring shortly, followed by Tammarine herself, most likely in the first week of January 2024.
Osburn will leave the city in the spring of 2024.
"I am eligible to retire next year. I am hoping to do so in the spring-ish timeframe," Osburn said, adding that recruitment for her replacement will begin "end of August, beginning of September."
In addition to keeping up with turnover and replacing the city manager, the city will be looking to hire a second deputy city manager as well as two tourism coordinators and a tourism manager.
"I do ponder a question about whether we should pursue an independent analysis of employee satisfaction somehow, if there isn't something we're missing," Furman said.
"I remember a parks and rec director, couple of them, who just said, 'I can't deal with this anymore,' and I don't think other communities have that," Williamson said. "The stress of having to deal with as much public scrutiny, anger, lashing out at our staff — it's going to have an effect on them."
Osburn said the city was "struggling" with "how to preserve the sanity of our staff."
Fultz queried the city's financial commitment to recruiting.
"You're only going to spend $50,000 on recruitment and relocation in a year? OK. That's not much," Fultz said.