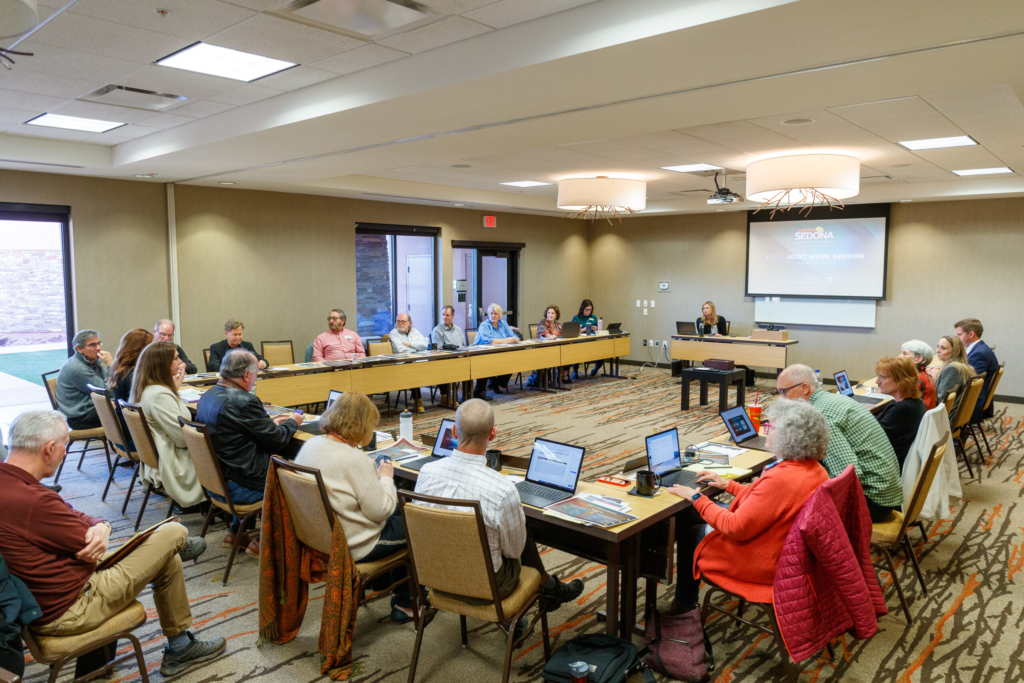 The joint work session between the Sedona City Council and the Sedona Chamber of Commerce & Tourism Bureau on the afternoon of Wednesday, Jan. 11, revealed sharp differences in the priorities of both organizations and provoked discussion about the future of the SCC&TB as an organization.
While members of the City Council and city staffers focused on discussing the chamber's organizational structure and the need for separate responsibility for decision-making on management and marketing, members of the chamber's board expressed concerns over the ongoing availability of sales tax funds for marketing and the unity of destination management and marketing.
Clarity
Both council members and chamber staff went into the meeting looking for greater clarity from one another. Bed taxes, paid by tourists, can only be used on tourism promotion per Arizona state law, thus the city contracts with the nonprofit chamber to spend those funds to manage tourism programs and run the Uptown Visitors Center.
"We are where we are because I don't think any iteration of council has given clear direction," Councilwoman Kathy Kinsella said, adding, "More clarity needs to come from both sides."
"At some point we really do need to determine what kind of relationship we want to have," chamber president Michelle Conway agreed.
Advertisement
"We really need you all to come to a clarification," chamber Board Chairwoman Jennifer Perry suggested.
Conflict of Interest
Both council members and chamber staff differed in their views as to whether the city or local businesses should be the chamber's primary customer.
"We are the customer," Mayor Scott Jablow said. "I felt we weren't being listened to."
Vice Mayor Holli Ploog commented that the chamber board were "constantly telling us 'we're not your membership, your businesses are' … and that's the inherent conflict: 'We're the chamber and we're not satisfying our chamber members.'"
Ploog added that what the chamber wants is not necessarily where the city wants to spend its money.
"Our job is to advocate for the businesses," Perry agreed, which Councilwoman Jessica Williamson commented was "absolutely correct."
"You need to be hearing from these businesses," Perry added.
Conway pointed out that the chamber had agreed to pause destination marketing in 2021 in response to council and public concerns over tourism negatively affecting residents' quality of life, and referred to ongoing claims on social media that the chamber is spending millions of dollars in city money on business marketing.
"We know better," she told council.
Williamson remarked that the topic of city funds being spent on tourism marketing is a political issue, and that no matter how often the chamber tells Sedonans that city money isn't being spent, "they'll still say, 'I don't care.'"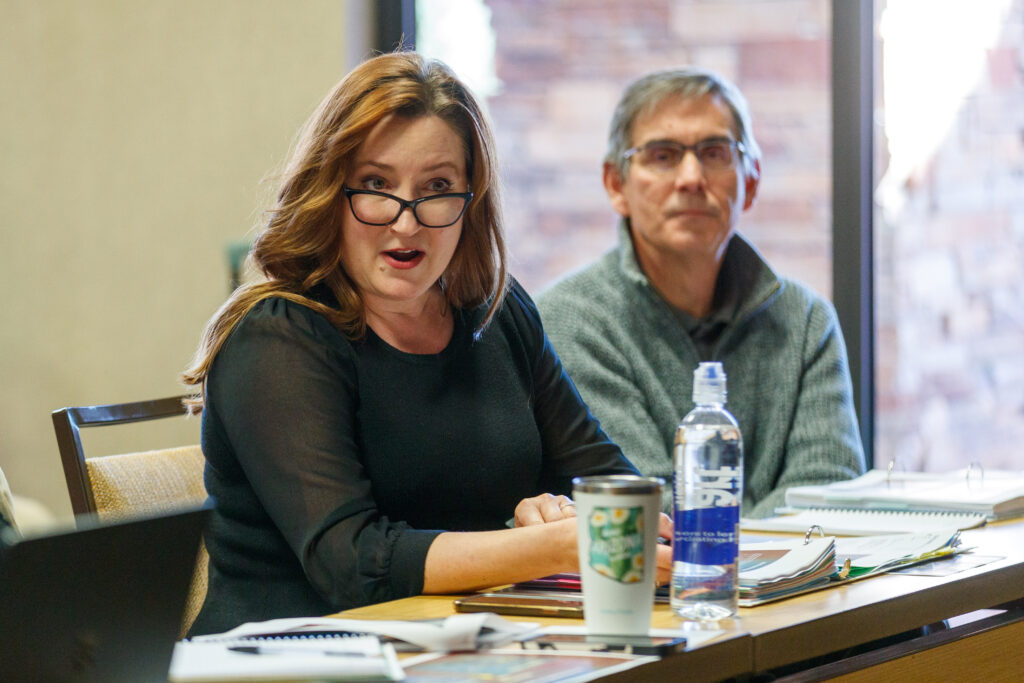 Management vs Marketing
Chamber board member Al Comello reviewed the evolution of the chamber and its gradual development, with the growth of tourism, from a marketing organization into a marketing and management organization and then into a management organization as management became the overall mission.
"Be real careful trying to fix something that's not broken," Comello advised.
Comello also reminded councilmembers that the 0.5% bed tax that Sedona collects for tourism management and marketing should not be thought of as public funds. "It came from us taxing the tourists for the purpose of benefiting the city's management needs," Comello said, arguing that residents should "segregate it in our minds."
"My interest first and foremost, beyond the structure, is that public funds are managed with propriety," new Councilman Brian Fultz said after the meeting. "We've got to make sure that the funds are handled appropriately … and not to wind up benefiting chamber members. That's the right thing to do."
Consent to Separation
As the dicussion progressed, new Councilwoman Melissa Dunn wanted to clarify that there was a proposal for "a divorce" between the nonprofit chamber and its tourism bureau.
"Personally, I think separation is the right answer," Ploog said. "I knew it had to be two separate entities. I was surprised that was news to you guys."
"If you don't make a clean split, it becomes very, very difficult to have two masters," Dunn commented.
"There needs to be a clear separation," Kinsella said.
"If you want to split it, it's doable," Comello said, but he advised the council to leave things as they are.
Holistic Tourism Bureau
"I think the solution is a new generation of tourism bureau," new Councilman Pete Furman proposed. "A holistic bureau … it looks a little different."
He suggested that the current SCC&TB, with all its employees, become a dedicated tourism bureau controlled by a board composed of business, city, resident and nonprofit representatives, thereby resolving issues of trust and control, and "we spin off a new chamber." The chamber could then contract with the tourism bureau for needed services on behalf of private businesses, he suggested.
Sedona could be "one of the pioneers" for this model, Furman said, calling for the new bureau to be enthusiastic, proactive and "inherently motivated to think of the pluses and minuses of tourism management."
Public Option
"Obviously, there is not consensus among council," City Manager Karen Osburn said.
"Holistically, there is a need to morph into more destination management," Osburn continued, replying to Furman's proposal. She went on to say that the chamber may not be the right entity to do that, and that city staff might do a better job of handling destination management.
"Are you the right entity to take on tourism management and what does that mean?" Osburn asked. "Maybe those things are better suited for us."
"As a city, we have the responsibility to do significant management," Osburn said, noting that the chamber and its tourism bureau would still play a role in that process and could focus on branding and marketing.
Osburn emphasized to the council that the city's Sustainability Department was concerned about the sustainability certifications being offered by the chamber, stating that they felt strongly that there was only room for one such program in the city and that the chamber effort did not have any teeth to ensure compliance.
"Some of this needs to come in-house to Sedona," Kinsella said, adding that the city would likely have to hire an expert to help it assess and identify its needs.
"Sustainable tourism is really new," Williamson said. "We don't really know what it is, either," commenting that eventually it will be someone's job to figure that out.
"That already exists with Michelle [Conway]," chamber board member Lonnie Lillie countered. "You have an expert in tourism, just not under the city roof."
"The problem is that she's answering to the chamber," Kinsella said. "There's a conflict there."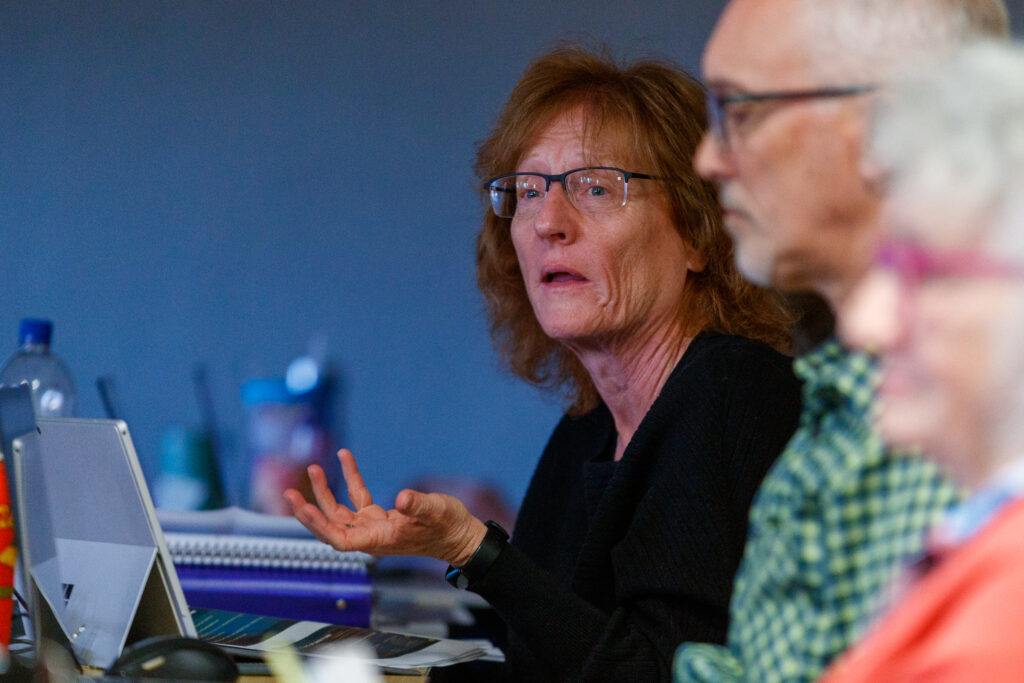 "It isn't the staff, it's the leadership," Ploog said.
"I don't think it's city," Furman differed. "Our plate's full."
"I would be cautious about assuming that we could just bring in the functions the chamber currently provides for us," Fultz commented afterward, noting that the city does not have the chamber's marketing skill set.
Fee for Service
As an interim measure, the council eventually agreed to accept the chamber's proposed alternative of a fee-for-service business model for Fiscal Year 2023-24 while evaluating future options. Some council members nevertheless expressed concern about that model, particularly in the long term.
"The health care industry is fee for service. It doesn't get good press," Furman said. "Fee-for-service models look more transactional than partnerships."
He added that it would open the door to higher prices for contracts that the chamber did not want or was not equipped to undertake.
Williamson pointed out that a fee-for-service model would require putting out a separate RFP for everything the council wanted to do.
"That's not really the direction I'm interested in going at this point," she said.
Ploog argued that fixed-price contracts produce better outcomes than time-and-materials contracts. "I'm supportive of going to fee-for-service for the upcoming fiscal year," Kinsella said, identifying it as an "interim step" in the process of making a final decision about what functions should be incorporated into city government. She noted that "that fee-for-service model already exists on one side" of the chamber, as businesses can pay additional fees for services not included in their membership benefits.
"I would like to look more toward fee-for-service to start," Jablow said. He suggested that although the city could permanently alter its relationship with the chamber in the future, if the fee-for-service model works out, it might not need to be changed.
Perry expressed that she would have preferred to continue with the existing partnership model, but she likewise concurred on a fee-for-service model as a temporary solution. She clarified that the chamber will contract with the city for specific services and will also have the ability to accept other clients.
"We're talking about 2024 as the year of the exploration," Kinsella said.
"This was very helpful. This was a conversation that needed to happen," Conway concluded.
City councilors, staff explore splitting Chamber of Commerce from tourism bureau – Sedona Red Rock News