By Juliana Walter -August 8, 2022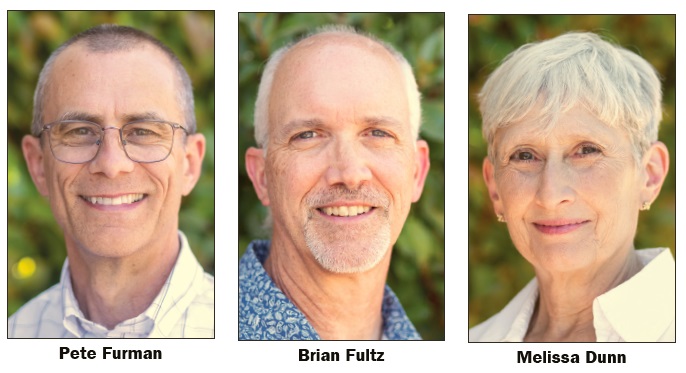 Six candidates vied for the three open spots on the Sedona City Council and by Wednesday morning, the results appear to indicate candidates Pete Furman, Brian Fultz and Melissa Dunn won the seats.
The Yavapai County Recorder's Office estimated at 9 a.m. on Wednesday, Aug. 3, that 17,000 early ballots dropped off at vote centers and drop boxes and 231 provisional ballots had yet to be counted. The county did not return calls indicating how many may affect Sedona's election.
The top two candidates, Furman and Fultz, both have been longtime resi­dents of the city. Furman finished with 1,674 votes for 21.12% of the total votes and Fultz finished with 1,519 votes for 19.16% of the total votes.
"I am happy, honored and humbled by the support I received from so many Sedonans." Furman said. "I look forward to working on City Council to enhance our quality of life, protect our environment and main­tain local control."
"I am grateful to have been elected to the council at the primary and look forward to joining Pete Furman and Melissa Dunn as new councilors," Fultz said. " I'm also pleased that voters strongly supported the re-authoriza­tion of Home Rule budgeting. With the election complete, there is a lot to work on to address the concerns our resi­dents have, and I'm eager to get started."
In a different turn of events from previous election cycles, three of the six candidates moved to the city within the past two years. But for Dunn, this did not seem to make a difference after receiving 1,409 votes.
Advertisement
"I am excited by the opportunity afforded me by the residents of our community and grateful to my fellow candidates," Dunn said. "Our problems are complex and complicated by the magnificence of our surrounding natural environment, which attracts large numbers of visitors, State laws and Federal Land Use principles. There is no simple or even single solution, but I believe by listening to each other we can find small, measurable, time-bound, steps forward to reach the vision and goals set out in our shared community plan."
Incumbent Councilman Jon "J.T." Thompson finished in fourth, followed by newcomers Jennifer Strait and then Scott Moffatt.
"I'm especially glad that they have also elected the best two candidates to council, Pete Furman and Brian Fultz. And while I had hoped to join them, I am sure that Melissa Dunn will provide a strong new perspective as well," Thompson said. "I wish them and the existing council all the best."
Although not elected, two other candidates both ran on the same platform, behind mayoral candidate Samaire Armstrong. As the city heads into the general election, Strait will continue to support Armstrong's campaign.
"I want to thank you all for standing behind me to run for City Council. I am honored to have met and connected with you in heart and spirit," Strait wrote on her Facebook page. "These past five months of campaigning, each and everyone one of us has planted the seeds for greatness. Birthing a new vision. Believing in a new way of living and being …. Now let's continue this positive wave. I believe we can make that change."
Scott Moffatt, who came in last, said "no comment."
Furman, Fultz and Thompson all support Vice Mayor Scott Jablow as the next city mayor. Dunn has not given her support to either of the runoff candidates. The general election will take place on Tuesday, Nov. 8.
http://www.redrocknews.com/2022/08/08/furman-fultz-dunn-elected/